Dog Grooming Tools
We can service and repair all makes and models
Grooming your own dog from time to time can be a fantastic experience, but you need to make sure that you have the right dog grooming equipment. On top of this, your dog grooming tools and equipment should be kept in top quality condition at all times. Faulty or under-performing equipment can cause stoppages during cutting, fur getting stuck, or other avoidable, and sometimes stressful issues. Posh Pooch has a staff of well-experienced dog clippers providing the best dog grooming service in Perth. We repair all makes & models of dog grooming tools.
If your dog trimmers or other pet grooming tools are cutting irregularly, or seem to be stopping and starting during cutting, that's your warning signal to get repairs. We can service and repair all dog grooming equipment including clippers, blades, blow dryers and even hydro baths. We service and repair all makes and models of grooming equipment.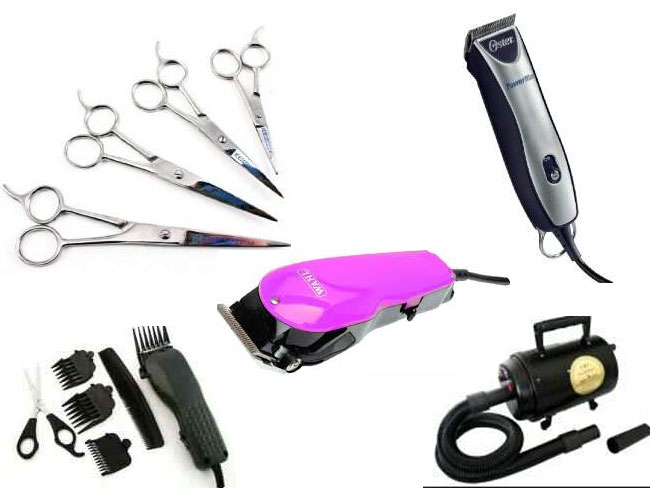 Dog Clipper and Blade Sharpening
Sharp blades are a must for dog grooming. If your blades seem dull or blunt, you've definitely got a problem. Our well-experienced dog clippers can do a full-service job for you to fix this issue.
We will dismantle all parts of the handset, grease them, and check them for wear. We can help you with any issues with clippers or other dog grooming devices.
As a general rule, all parts found to be faulty should be replaced and we can take care of that for you. We also professionally sharpen blades and test them to make sure that they're ready or your friend.
Blow Dryer Repairs
Blow dryers are very useful for dog grooming and fur maintenance. Problems usually occur with the blower mechanism, which may be simply worn out or defective. Do NOT use blow dryers if leads are worn, the electrical housing is damaged, or the wiring is compromised. The unit must be repaired to ensure that it's safe to operate. We can repair all types of blow dryers for you.
Hydro bath Repairs
If your hydro bath has stopped pumping properly or started to leak, these are the classic symptoms of major defects. Do NOT operate the bath, particularly anywhere near live electrical equipment. We can inspect and advise on the best options to repair your faulty hydro bath.
Need some help with your dog grooming tools? Call us!
Give us a call on 0438 918 609. Alternatively, you can send us an enquiry online or visit us for dog grooming repairs in Perth.